Why we need to stop dreaming about becoming someone we admire, and get busy becoming ourselves.
---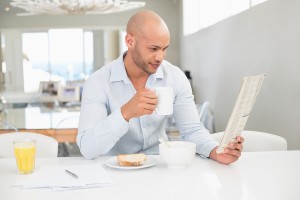 I LOVE THE FALL!!!
I'm getting very excited for September, and not just because my kids are headed back to school this week…I love the fresh start that the new school year brings, and I love my routines! We've had a wonderful summer, but there is something that is still so exciting for me about getting back into the swing of getting up early again, and about having a regular schedule.
Researchers believe that the brains in both humans and animals evolved to feel calmed by repetitive behavior, and that our daily rituals and habits are a primary way to manage stress. Ever notice that you always drive to work the same way, even though there are dozens of other routes? Or that you always put deodorant on right after you brush your hair? Each of us has hundreds of little habits that carry us through the day. The fast-paced world we live in can feel quite unpredictable, but our daily rituals can help us feel more in control, often without us ever realizing it.
Take Action: Return to routine. What daily routine or ritual did you drop this summer that will provide you with a little respite of calm if you get back into it this fall?
Join the Discussion: What routine do you look forward to getting back into? Leave a comment to inspire others.
---
My kids go back to school on Wednesday. Until then, I'll experience vicarious joy through @WhatsUpMoms
---
In the East they say that luck favors the prepared mind. I believe that life favors the prepared mind." —Robin S. Sharma
---
Happiness is not a matter of intensity but of balance and order and rhythm and harmony." —Thomas Merton
---
One of the things that can detract from our happiness is a lingering to-do item. I'd be rich if I had a dollar for every time I've woken up at 5:00 am worrying about an unfinished project, an email I forgot to send, an appointment I didn't have a chance to make, or something I meant to do, but didn't.
Researchers used to think that this low-level worrying about unfinished tasks was our unconscious mind trying to help us get things done by reminding us of what we still needed to do, and that the reminders –- or distracting thoughts and worries –- would persist until the task was complete. This in itself is a worrying theory for those of us who have never-ending task lists.
But now research shows that simply making a plan to deal with an unfinished task makes a huge difference in our ability to focus on other things -– without being constantly reminded by our unconscious mind about what else we need to do.  When we don't have a plan, in contrast, our thoughts will typically wander from whatever it is we are doing to our undone tasks. As it turns out, our unconscious isn't nagging us to do the task at hand, but rather to make a plan to get it done.
Take Action: Before you leave work or hit the hay this evening, take a look at your task list and make a plan for completing unfinished tasks. Knowing what the next step is for undone items, and when you will do them, can make you a whole lot happier.
Join the Discussion: What task do you often worry about when you haven't completed it? Does it help you to make a plan? Share in the comments.
---
I like this video for its moving reminders about why we should find ways to say no politely, and to behave well when someone doesn't give us what we want. But I also love the surprise message! Hint: It dovetails with this week's Happiness Tip! 
---
Education is when you read the fine print. Experience is what you get if you don't."
– Pete Seeger
---
We recently adopted a dog, which has given me a new perspective on how animals bring happiness to humans. We were certainly happy before we met Buster (pictured below), but rarely have I seen a sentient being bring so much sheer joy into a family.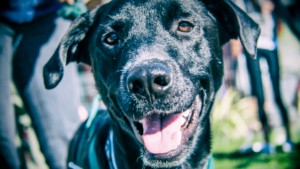 I'm not surprised that research shows that greater health and happiness can come from caring for a pet. One study tracked "hypertensive stockbrokers" who adopted a cat or dog; caring for their new animals lowered their blood pressure more than prescribed medicine! And you may have heard about the study that found that dog-owners tend to get more exercise than folks without a dog. Exercise is, of course, a sure way to boost health and happiness.
Take Action: This week, find a cat to pet, a dog to walk, or a fish to feed. If you feel noticeably calmer after the experience, consider adopting!
Join the Discussion: Do your pets–or the idea of pets, if you don't have them–bring more or less joy into your life? What about stress? Share in the comments.
---
Real generosity toward the future lies in giving all to the present."
–Albert Camus